Bobby Nystrom Quotes and Links
Islander Cup Overflows (The Sporting News)
By Pat Calabria (This article first appeared just days after Bob's big goal)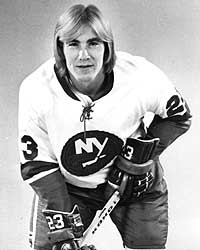 Islander Great Bobby Nystrom
Bob Nystrom's name will always be associated with his Game 6 overtime goal.
NEW YORK -- Traffic is almost always stopped along Hempstead Turnpike. This was different. The cars were lined up three abreast, horns blaring and drivers swigging from bottles of champagne. Passengers danced on hoods, sometimes with each other. In the shadow of Nassau Coliseum and right smack in the heartland of suburbia, Islanders fans held their own spontaneous victory parade.
Like their team, the fans had waited eight seasons for the moment. Like the players, the fans conducted themselves uproariously -- but generally harmlessly -- into the night and into the next morning as well.
"The whole thing is unbelievable," said right wing Bobby Nystrom.
It was Nystrom who scored the goal at 7:11 of overtime which produced a 5-4 victory over the Philadelphia Flyers in the sixth game of the final series May 24. And it produced the Stanley Cup to be paraded at center ice in Nassau Coliseum while the players somersaulted and the fans flapped banners.
And it's a fact that approximately seven hours after Nystrom scored the biggest goal in the club's history, he ducked into a tramped restaurant, withered from his own private celebration, wearing an Islanders T-shirt. He was vigorously applauded.
The sights and sounds of the Islanders' first NHL championship were a man dressed in a garbage can and spray-painted silver -- a mock Stanley Cup; fans clamoring outside the Coliseum long after the last player had fled the fury of the locker room; a string of teenagers lined up for miles along Hempstead Turnpike displaying banners and shouting, "We're No. 1!" But it was more than that.
It was Clark Gillies rushing to his mother, Dot, soon after the game was over, and greeting her with a kiss. It was General Manager Bill Torrey with a glaze over his eyes. it was Lorne Henning choking on his words and it was Wayne Merrick grabbing his father so they could cry in each other's arms.
The Islanders' stunning achievement had as much impact on those who watched it as it did on those who performed it. Fans who huddled around television sets in their living rooms popped their own bottles of champagne. Those who bad claimed stools in the pubs in Uniondale and East Meadow and Bellmore doused themselves with beer, just the way the players did.
It was the first time Long Island had celebrated a championship so heartily. The Nets, then another Long Island team, had won an American Basketball Association title in relative secrecy. The Islanders were different.
For one thing, the players live in Nassau and Suffolk counties most of the year and many have purchased permanent homes. They have a softball team which plays charity games in July and August. The players are there to be seen in pubs and shopping malls or stopped at traffic lights. It's their home as well.
Which is why goalie Bill Smith thought to draw even a thicker boundary between Long Island and New York City. Reminded that the Islanders had brought the metropolitan area its first Stanley Cup in 40 years, Smith protested.
"It's not New York City's Cup," he said. "It belongs to Long Island."
Of course, it did. And it belonged to Bryan Trottier, too, who was awarded the Conn Smythe Trophy as the MVP in the playoffs for his record-breaking 29 points. Said Trottier, "It means that much more because there were those who said I couldn't perform in the playoffs."
After the game there was a mile-long parade along the roads that circle the Nassau Coliseum as the players waved from antique cars.
The fans, though, couldn't wait. They held their own parade as soon as the game was over. They wore hats topped by miniature Stanley Cups. They wore Islanders jerseys and Islanders caps and Islanders windbreakers.
They showered the ice with ribbons of confetti and they proudly displayed their home-made posters:
"Today."
"It's Our Cup."
"Finally."
Yes, finally, eight years, 11 months and 18 days after the team was christened in the poverty of the expansion draft. Two years ago, the Islanders were $25 million in debt and appeared headed for another city or dissolution until a financial reorganization saved the club. On the ice, they won just 31 of their 156 games in their first two seasons, 1972-73 and 1973-74. They advanced all the way to the Stanley Cup finals in their third year. The last two seasons, they suffered shocking eliminations in the playoffs.
So while the players sipped from the Stanley Cup, spectators sipped from cups of their own. They cheered wildly and some bounded out on to the ice. Just the anticipation had been overwhelming.
The man dressed up as the Stanley Cup -- only the engraved names were missing -- had appeared three hours before game time without a ticket. An understanding gate keeper left a door ajar and pretended not to notice when Mr. Stanley Cup squeezed through.
It was, after all, a victory for Long Island as well. When the Rangers beat the Islanders in the playoffs last season, the Madison Square Garden scoreboard displayed a map of Long Island breaking up, as if destroyed. The Islanders fans remembered.
There was the Nassau Coliseum scoreboard flashing a simple message. The clock showed 12:49 left in overtime. The scoreboard said: "It's Over."
Certainly, the game was. But the celebrations had just begun. At Dr. Generosity's, the pub which serves as the players' main hangout, fans swarmed noisily, but were not unruly. Less than a half-hour after the game, people were being turned away at the door. So the celebration spilled out onto the street.
The people roared. One man was dressed in a tuxedo and had the explanation that he was on the way to a wedding -- his own. Girls shrieked and men applauded when a few players straggled in. Denis Potvin smiled wearily.
Over at another table, Nystrom sat, surrounded by fans who wanted to shake his hand. They begged him to describe his goal and Nystrom happily agreed.
Perhaps eight years isn't a long time, but for the Islanders and their fans it had seemed like forever. So Nystrom remembered the spectators tumbling out of their seats and clawing at him and he smiled.
"It's unbelievable, isn't it? " he said.
'Ask An Islander': Dave Scatchard - March 14, 2002 Edition

Dave talks about Bobby Nystrom the player and the person.
Calum Murray, 8, Edson, Alberta
Was it cool getting the Bob Nystrom award last year since you both played some minor hockey in the same hometown of Hinton, Alberta? We asked Bob and he said he sure liked watching you play last year. Do you remember watching him at his best?
Dave Scatchard:
I looked up to him and respected him, especially when they were winning their championships. Since I've gotten to know him in person, he's a more amazing guy than I ever knew that he was. He's a wonderful, kind man with a good heart that cares about his community and he was a phenomenal player at the same time. It was good to see that he's as nice a person off the ice as he was a good player on it.
Michelle Gee, 12, Plainview
Who was your favorite hockey team growing up?
Dave Scatchard:
I grew up in Alberta so pretty much everyone there was an Edmonton Oilers fan. That's where I saw Bobby play for the first time because the Islanders had some great battles for the Stanley Cup. Both teams were exciting to watch and to see them meet up in the playoffs all the time was really exciting. Being a Canadian kid, watching guys like Wayne Gretzky and Mark Messier everyday on TV, you couldn't help but fall in love with that team.
Kyle Murray, 6, Edson, Alberta
If you weren't a hockey player, what would you have liked to become?
Dave Scatchard:
I'd like to be a sports psychologist, maybe, or be in sports medicine. I think I could have done it. I enjoyed school and enjoyed studying. It was fairly easy for me. Both my parents started off as teachers so they kind of taught me everything I needed to know to do school right. It would be neat to be able to help people, either mentally or physically